CULINARY MCT OIL BLENDS (BOTANICAL INFUSIONS)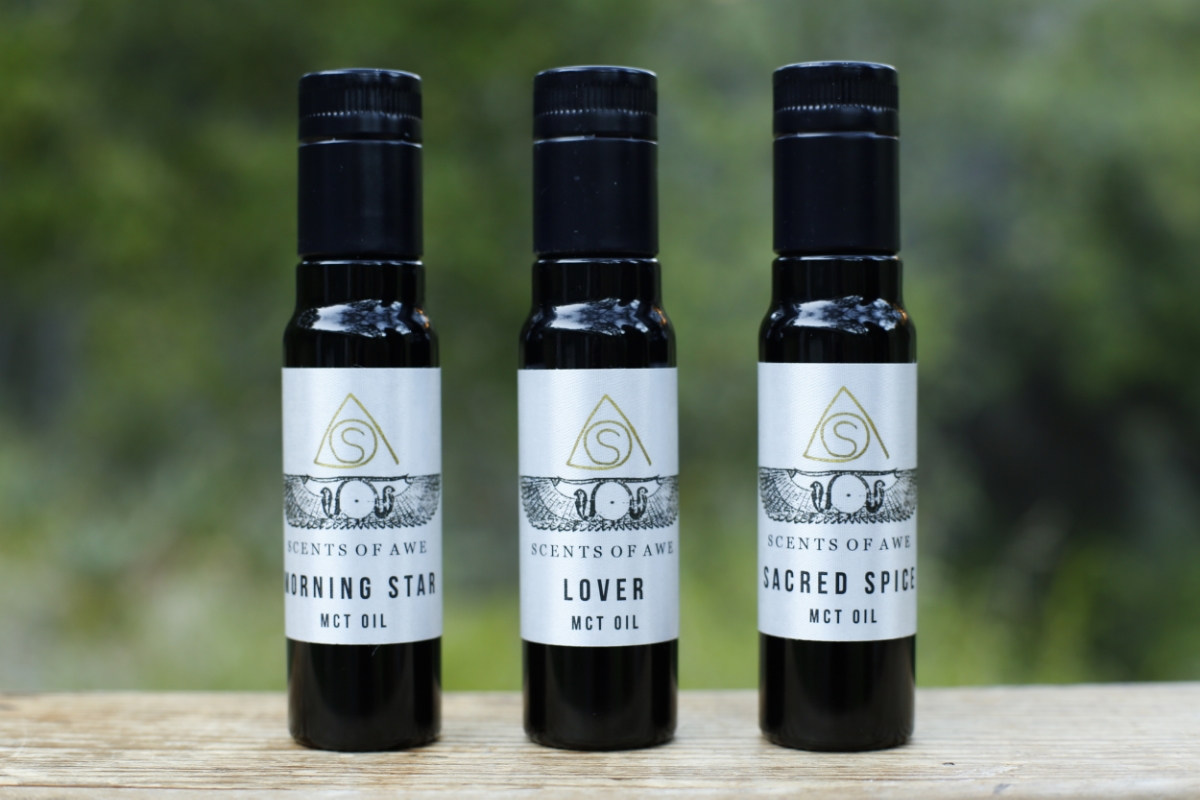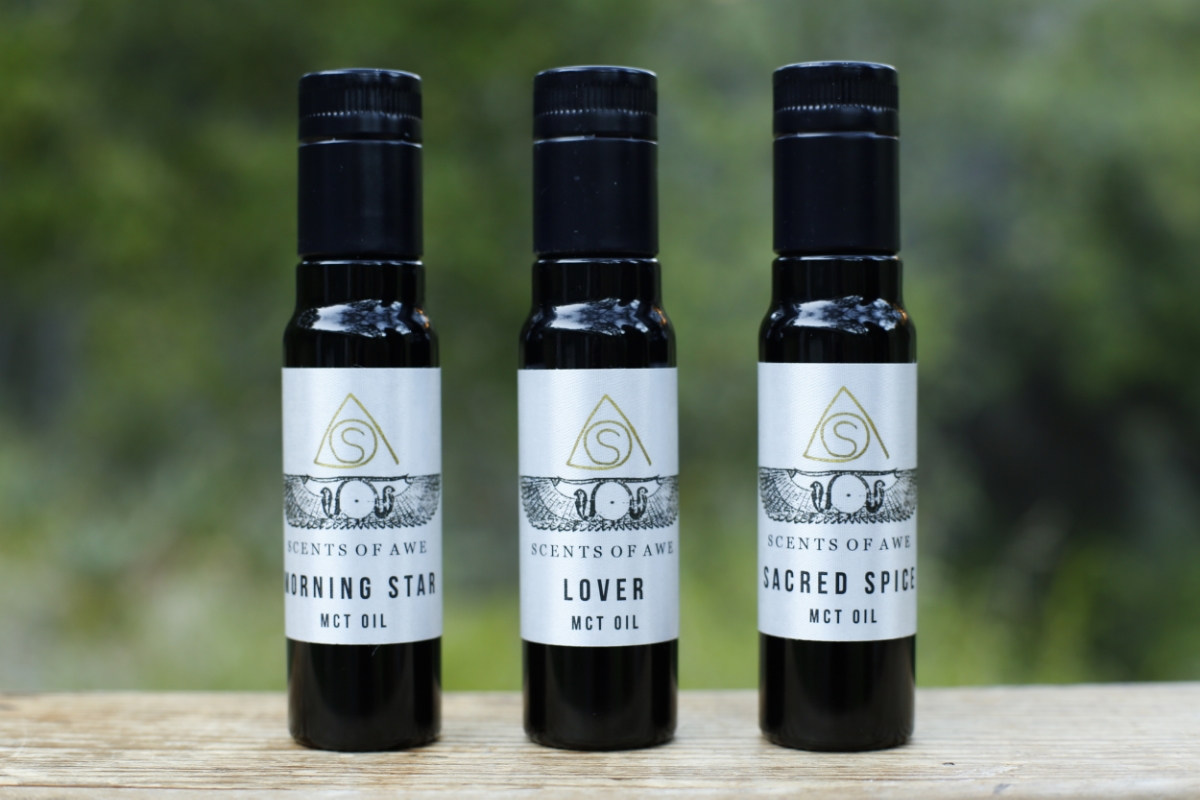 CULINARY MCT OIL BLENDS (BOTANICAL INFUSIONS)
These culinary oils weave together botanical infusions of liquid lovelight that enhance and beautify your morning latte, holiday desserts, teas, and any treat you feel may be in need of a gourmet elemental uplift. These are blends of MCT Oil (see below) with high quality botanicals that swirl their sweet essences into a superbly delicious delicacy. Scents Of Awe truffle and latte recipes available on Free+Native.
LOVER BLEND INGREDIENTS:
MCT oil (medium chain triglycerides) Rose Otto, Vanilla, Nutmeg, Jasmine, Vitamin B Complex (in Glycerin), Cinnamon, Ginger, Black Pepper, Cardamom.
MORNING STAR BLEND INGREDIENTS:
MCT oil, Essences of Turmeric, Cinnamon, Cardamom, Coffee, Black Pepper, Ginger, Nutmeg.
"MCTs (medium-chain triglycerides), which are largely missing from typical diets, are saturated fats easier to digest than the more common LCTs (long-chain triglycerides). Your body sends them straight to your liver, where they raise your metabolism and are burned as fuel instead of being stored as fat.
These fatty acids show potential in maintaining healthy weight and diminishing fat storage, in 26 studies referenced here. Medium chain fats help you feel full more than long-chain fatty acids you'd find in vegetable oils. You will find trace amounts of MCTs in butter, but the richest source is coconut, and to a lesser extent, palm kernel oil.
Coconut oil is about 65 percent MCTs, a fact touted by coconut oil merchants. What they don't tell you is that there are 4 kinds of MCT, and 80% of the fat in coconut oil is just one type of MCT. The four kinds of MCT differ by the number of carbons on the molecules, ranging between 6 to 12 carbons long. There are caprioc (C6:0), caprylic (C8:0), capric (C10:0), and lauric (C12:0) acids. All of them are good for you, but the shorter the chain, the faster the transformation to ketones for energy. If you are counting on coconut oil for your MCTs, you're going to get a lot of lauric acid, and only about 5% of the really good shorter chain MCTs.
MCT is 18 times stronger than regular coconut oil and fuels you best for maximum brain function. This type of MCT most quickly creates ketones in the body, which means you can achieve the brain-boosting effects of ketosis while consuming a higher carbohydrate level than a ketogenic diet. The theory behind this is that caprylic acid (even without otherwise changing your diet) increases your ketone level so your brain can consume the ketones it favors over even glucose. To produce a useful level of ketones with diet alone, you'd need 90% of your calories to come from fat. And if that doesn't sound appealing to you, you can eat substantially more carbs and still boost your ketones with the aid of MCT oil." -Dave Asprey